Print
Become a Saquella Cafe
We are the number one supplier in the UK for the top of the line Italian coffee brand Saquella, see there own website by clicking here, and its a product we are proud to recommend to any one of our customers. They are a family brand who care about providing the best quality products to their customers whilst working hard for the sustainability of the product.
If you want to set yourself apart from other coffee shops, tea rooms and restaurants around you, theres no better way than to start supplying Saquella and using all of the high quality point of sale, branded accessories that come along with the Saquella name. Not only will you be making the best coffees Italy has to offer but you'll be doing so whilst looking the part.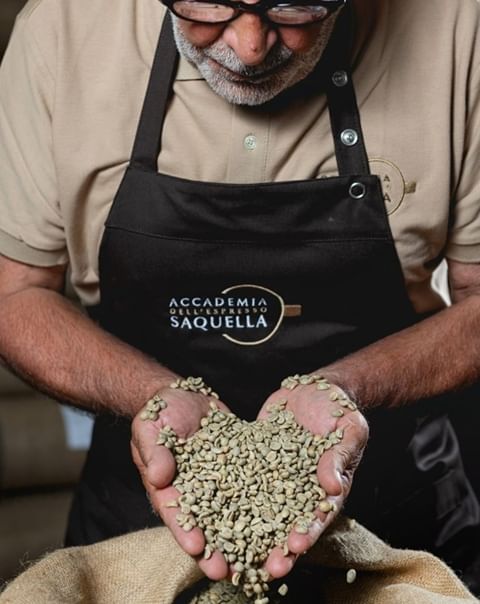 Top Quality Beans
When it comes to the blends of beans Saquella supply, the entire range is great with a range of different strengths and flavours available to suit whatever it is that their customer is looking for. Our favourite out of all the brilliant options is the Saquella Crema Beans. When it comes to that iconic Italian coffee taste, look no further than the Crema beans. Not only do they taste great, they are great to work with when making drinks and can help a barista really show off their skills.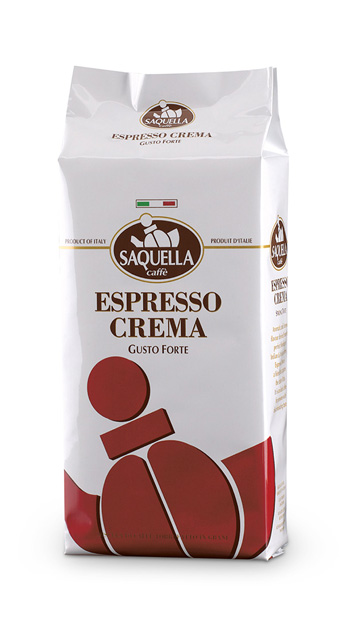 Here's what Saquella has to say about this type of blend:
"Aromatic and intense flavour derived from the perfect blending of selected Indian Robusta beans and natural Arabica from Brazil.
On the palate, it confirms its renowned quality and body with its robust and intense taste. A full-bodied and intense Italian
espresso coffee with a luxurious golden brown crema."
Click here to be linked to a page on their website where other blends of beans are showcased, which detailed descriptions of each including the aromas, flavours, aftertastes, strengths, blend and roasting information as well as some tips on how they should be ground, for example how coarse or fine.
Saquella Package
£1424 + Vat
What's Included?
Subsidized Coffee Machine – 2 group (£1200)
Grinder (£185)
Knockout Drawer (£39)
Free Training – Of which is provided by a member of staff trained by the Italian World Champion
Free Installation
600 free cups of coffee – Profit value exceeding £1200
Included for free!
Aprons
Sugar / Tip Cups
Clocks
Menu Board
Signs
Chains
Blackboards
Espresso Cups
Cups & Saucers
Italian Glassware
while stocks last
The Saquella brand
From a range of cup types and sizes, wall clocks, posters, art boards for walls and standing boards for street usage, aprons, and much much more, everything you need to run your business can all be part of the same theme when you go with Saquella, creating a unified look for your establishment and really setting you apart quality wise. There are places in America and some countries in Europe who have gone down this route with great success, and now you can be one of the first to do so in the UK by working with us.
See below an image gallery of some of the sorts of things that we can provide. This is not an exhaustive list as the range of things available is quite massive! The rectangle images included in the list are wall art boards which are used for display similarly to a poster. Click on an image to open it up in a separate tab to get a better look.
Pods are quick and simple, but still quality
Saquella not only provides brilliant quality bags of coffee beans, they also do a range of coffee pods. These are coffee grounds within a pod that are placed directly into the ground handle of an espresso machine and is used just like the coffee grounds would be in this way, just put them into the machine and run off a shot of water to create a great tasting drink.
These pods are available in different varieties, include single shot and double shot, decaf single shot and decaf double shot, covering all the bases for different types of shots you might need to make drinks in your Saquella cafe.
The great thing about the pods as a product is there simplicity and ease of use. They make no mess at all since all of the grounds are contained within the pod itself unlike usual use of an espresso machine where the beans are ground into the group head and moved around, usually causing some mess and they are easy to keep track of in regards to stock levels since each individual pod is a single drink itself. They also due not flush up as much waste into the coffee machine during the process of making a shot when compared to coffee grounds.
Double Decaf Pods
The Saquella brand double shot decaffeinated pods are quite a new product we have got in from Italy, and we are one of the few suppliers in the UK who can also supply the Saquella pods in the form of double decaffeinated espresso shots. This is the same great tasting Saquella decaf coffee as the other decaf option in the pods range, but as a double shot instead of the single, giving your customers a good strong tasting drink whilst still being free of caffeine, and is a great addition to your product line if you already stock other forms of Saquella pods as a stronger tasting decaff drink.
Get in touch and see what these products can do for you!
We are eager to share these products with whoever we can as we are confident in their quality, so if you are at all interested in anything mentioned here or anything you have seen on the linked website of saquella themselves, please dont hesitate to get in touch with us. Get in touch with us to start your journey into the world of Saquella products, and contact us so we can have a conversation about the options available. This can be done via email to ardencoffee@hotmail.co.uk or you can ring us on 01246 252832.
Print