Print
Open Evenings
‏‏‎ ‎‏‏‎ ‏‏‎ ‎‏‏‎ ‎‎‏‏‎ ‎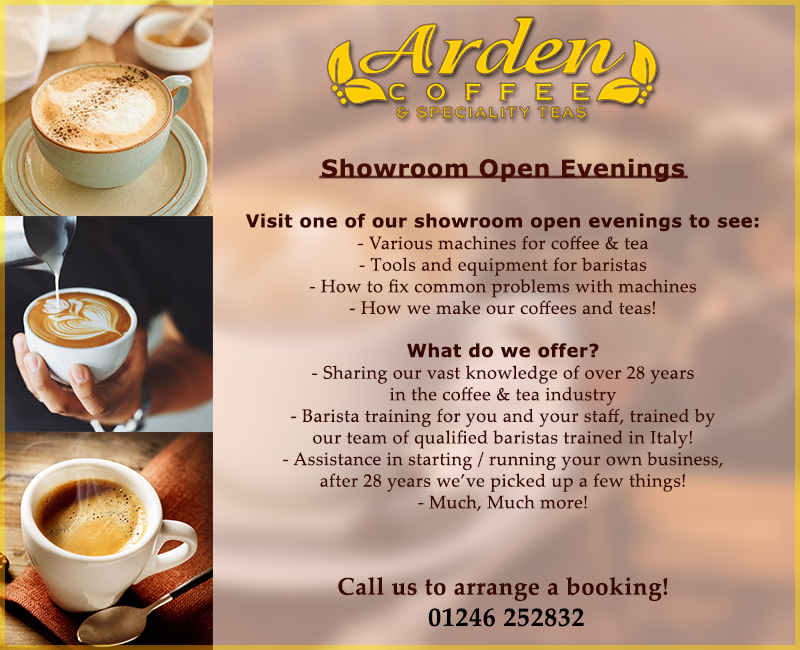 Thinking of a change? Want to try new products? Luxury Hot Chocolate, Retro coffee`s, Award Winning Tea`s, Coffee Syrups, quick and easy tips on making any of the above?
Opening a coffee shop? Tea room? Any business which can make use of a high quality drinks machine? Or want to upgrade your old equipment?
Book a place for an open visit in our showroom! – 01246 252832 (see more ways to contact us below)
START BOOKING NOW
Whether you are available during working hours or need an evening visit later on, we have slots available throughout the day and night, from 9am-7pm, so we'll have no problem in welcoming you into one of our showroom experience open visits, free of charge! Weekend visits can also be arrange if you cant be free in the week, just get in touch with us and let us know what sort of time you would be interested in. Our showroom always has a range of different machines, from bean to cup machines to 3 group high end barista machines, with a range of different coffee blends, tea blends, chocolate types, flavouring syrups and many more ready for sampling to help you decide what the right drink for you is!
Slots Available
28/12/2021 6am-9pm
29/12/2021 6am-9pm
30/12/2021 6am-9pm
04/01/2022 6am-9pm LIMITED SLOTS AVAILABLE
05/01/2022 6am-9pm
Call now on 01246 252832, or email us at ardencoffee@hotmail.co.uk, to secure yourself a space, they are filling up quickly!
On the day:
Taste different coffees and teas
Italian Chocolate
Thick Milk shakes
Frappe drinks
Real Tea Leaf demonstration
Free samples for you to take home of variety of products
and much more!
It doesn't have to be all about coffee!
A Range of Goods
If you already have your coffee needs sorted that doesn't mean you have to be excluded. Come and try out our wide range of award winning Gold Taste Novus Teas, available in a wide range from classic English Breakfast to exotic flavours like Spicy Rooibos and Spiced Chai, your sure to find at least one to fit your tastes.
Technical Help
We can also demonstrate how to properly clean your machine as well as some basic maintenance and simple repairs if you feel like you aren't confident that your looking after your equipment right, proper indepth courses on this are also available.
Business Tips
We can even provide you advice on running your business! After working with cafes, tea rooms, coffee bars and many more types of establishment over the years, we've picked up alot of tricks of the trade that we can pass on to people like yourselves!
How to book a place!
There are multiple ways you can get in touch with us to book a session with us:
In office hours (9:00am – 4:30pm) please call: 01246 252832
Email us at ardencoffee@hotmail.co.uk and we can discuss from there
Out of hours or over bank holidays 7 days a week please call: 07815 708 121
Or message our official accounts on any social media platforms
Social Distancing & Safety Measures
We have recently reopened our showroom area for opening visits and barista training courses, and to make sure that everyone who comes to them as well as our own staff are safe to do them again, we've made a lot of changes to the training room that we use.
Print