Print
Tamping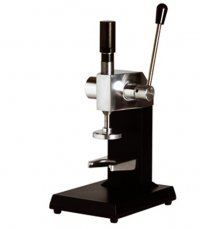 Tamping is the process of pressing ground coffee beans in the filter baskets into a compact cake. some baristas refer to this as packing.
Understanding Tamping…
To make a perfect espresso, the ground coffee beans that are dosed into the filter basket must be compacted by applying pressure. This operation is known as tamping. The device known for applying pressure is known as a tamper. There are hand tampers, fixed tampers to grinders, grinders with a push down moveable tamper disc, Tampers with even cut of pressure plate , professional tampers and many more.
Your tamping skill or lack of it can make or break extraction even after you have set the grind and dose to perfection. as a traveling liquid, water likes to get from A to B, if the surface does not provide enough resistance to the hot water then it will blast its way through the weak spot which will reduce the strength. please make sure you make a detour back to the extraction and grinder sections to fully understand the role of the water and coffee. Keep in mind no mater how good your tampering skills are, if the shower plate is blocked, the group head is worn or the pipes are clogged the water will not be distributing evenly, huge inconsistencies in the size of grind particles may also cause a problem or uneven channeling of the water. Bypassing will also occur when you are using a tamper that is too small for the size of the basket as the ground coffee at the edges are left UN tampered.
Pressure
The amount of pressure applied by hand must be enough to make a compact cake. Tamp once, only if there are loose particles then you should move them to the centre and tamp again lightly.
Another way of preparing the cake of ground coffee is by twisting a little in the final action a few degrees, this smooths the surface which helps improve even flow.
Summary.
Regardless of how you achieve this, the reason for this is:
To provide a perfectly smooth and even surface for the hot pressured water to go through the cake.
To compact any loose particles of ground coffee.
To remove the tamp with out disturbing the tamped surface of the coffee.
When making a decision about how much pressure to use when you are are tamping, keep in mind that:
A- There is a huge difference in surface water pressure between loose and tampered coffee.
B- Only minor differences in surface resistance to the pressurised water can be detected between a weakly tampered and a force full one, with little change in the taste of the espresso.
Keep in mind if you are busy making hundreds of coffees the effort you put in can add a lot of spent energy.
Watch the fill line, Many baskets have a groove called the fill line that runs round the circumference of the basket(mesh fitted in handle) The fill line is a good indicator of where the pressed down top of the cake should be.
Heavy tamping, or feather touch produces a better result,if it doesn't, see machine extraction and grinder adjustment, cleaning section.
How hard to press? firm is the answer practice by making different coffees at different pressure and you should hopefully realize what your preferred tamping pressure is.
Using the fixed position grinder tamp instead of telescopic shown most common.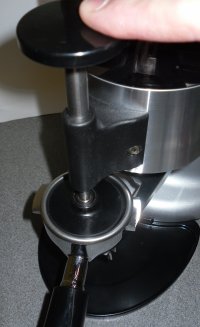 1. hold the group handle in one hand and centre it under the grinder tamping fixed disc
2. move the group handle upwards be sure to keep handle horizontal
3. press the coffee ground against the disc at the same time push down on the disc to keep grinder stood still
4. lower group handle check tamped cake is flat and level all way round
5. gently tap against the handle with your hand to spread out partly loose part particles clinging to side of basket
6. tamp again if got loose particles finish with a twist
Hand Tamp comes in different weights, heavy type would give you feel and control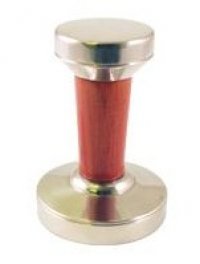 1. hold handle on counter
2. press the tamp down onto the coffee be careful to keep horizontal
3. twist the tamp
4. check filled in and flat
5. gently tap side of handle with hand
6. tamp if any loose particles finish with a twist
Grinder with movable telescopic disc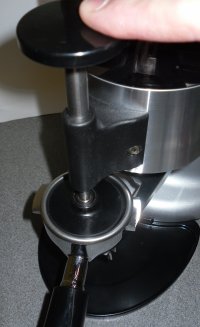 1. move handle under disc
2. push down against ground coffee
3. check level and flat
4. gently tape against sides of handle
5. re tamp if loose particles and twist
Hand tamper with adjustment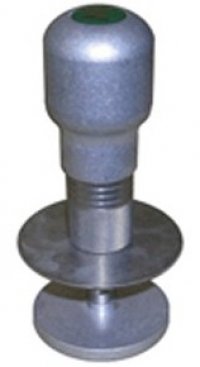 1. Used as a hand tamper see above
2. Screw by hand to make adjustments see ring marks on shaft
3. Down to slow coffee flow down
4. screw up to speed coffee faster flow
5. Plate hits group handle to give same pressure to coffee
ITS BRILLIANT TO STOP UNTRAINED STAFF PLAYING WITH GRINDER ADJUSTMENT. THE TAMPER QUICKLY HELPS RECTIFY CUP TO CUP SALE INSTANTLY WHEN THERE HIS A HUMIDITY CHANGE THROUGH OUT THE DAY BECAUSE OF ITS PLATE IT GUARANTEES ALL STAFF PUT ON THE SAME PRESSURE. NOTICE THE DIFFERENCE.
Print