Print
Barista Training
Join our Coffee School and become a Certified Professional Barista with a Certificate upon completion!
COVID 19- BARISTA SCHOOL CURRENTLY TAKING BOOKINGS
During the lockdown we have been busy installing Perspex glass in our Showroom
We have put the following measures in place to adhere to social distancing measures-
• Perspex Glass between trainer and pupil
• All Equipment cleaned before and after use
• Work Surfaces wiped down thoroughout
• AntiBac Gel available on work station
• Trainer and Candidate will both have seperate equipment (Including Espresso Machine/Grinder) to work on. Including Steam Jugs and Cups.
• 2 Metre distance between two workstations seperated by Perspex Glass.
• Disposable Gloves/Mask PPE available.
Courses Available
The Basic Barista Course
The Advanced Barista Course
The Site Manager Course
The Bespoke Course
Latte Art Course
Team Building Course- Hire out our Showroom for work meetings and gatherings. We even throw in a Barista for your drinks!
How to book? Pick a course above and Give us a call or message us through our Facebook- Arden Coffee. or email us > ardencoffee@hotmail.co.uk, to find out available dates and times. Ideally on your message, let us know your best days/times and we will work to it best we can to find a booking.
Our Barista's are professionally trained by the London School of Coffee and the Italian Coffee Experts at Saquella, so you know you're learning from the best around!
With a relaxed friendly atmosphere and free alone time on the machines to practice your skills, anyone can learn to be a Barista with us.
We offer training gift vouchers for a friends/loved ones, ideal as a gift for an upcoming birthday or special event!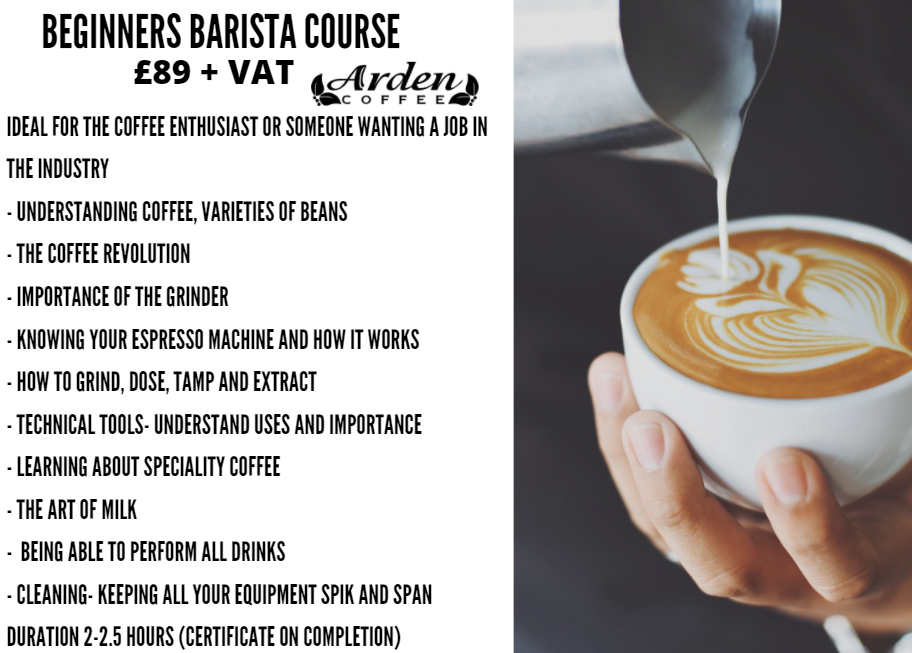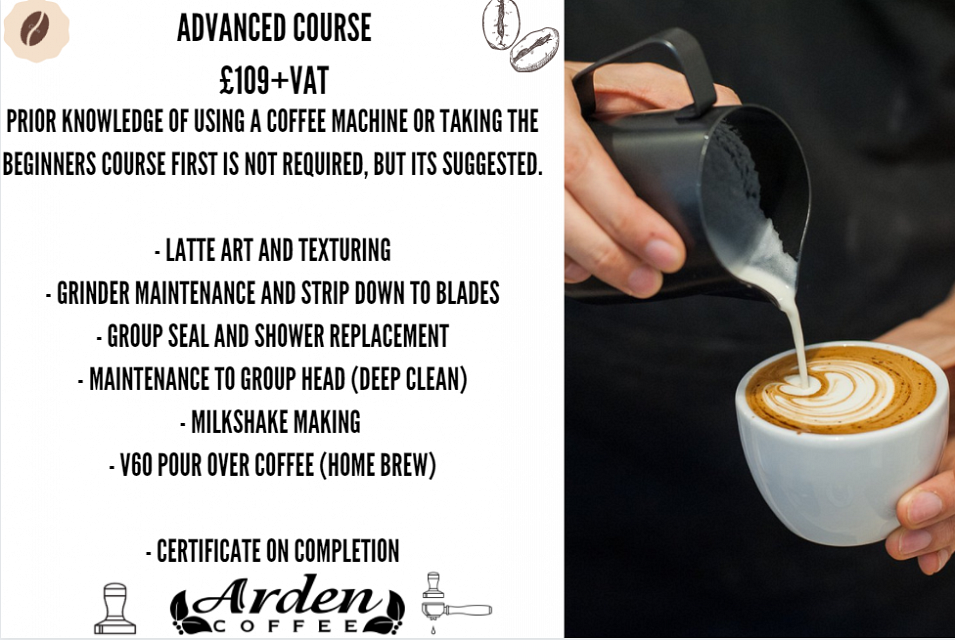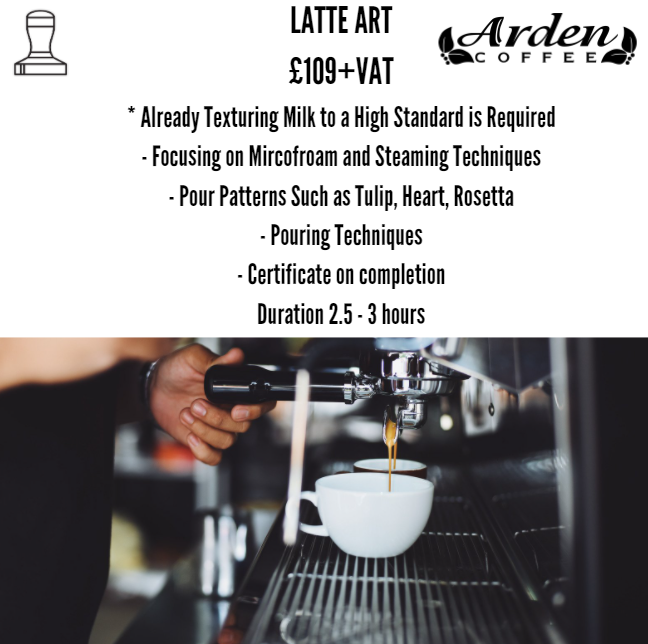 We can provide training for your site managers, which will provide your premises with the confidence to tackle any issues on site, from training new members of staff with barista training, to doing basic maintenance to ensure your equipment is running up to performance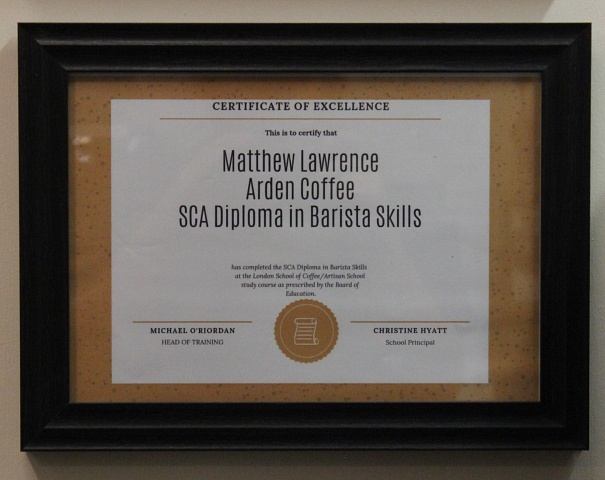 Matt's London School of Coffee Certificate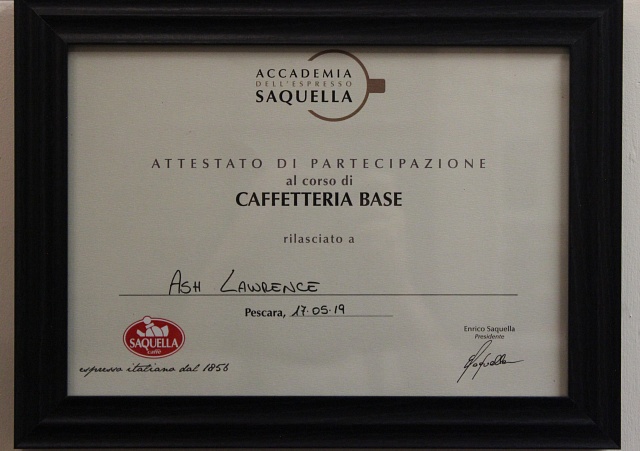 Ash's Saquella Barista Training Certificate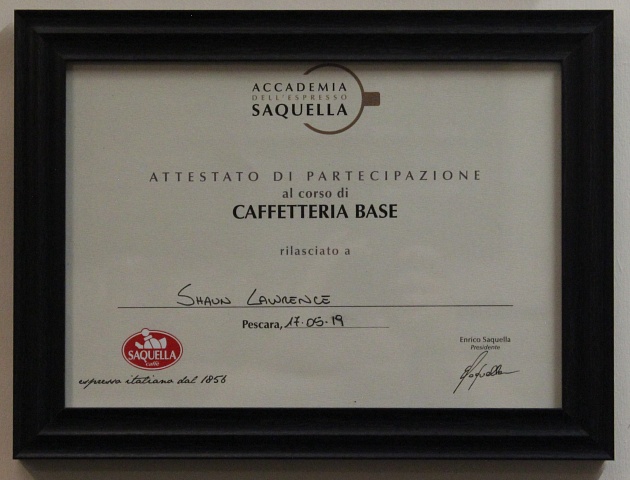 Shaun's Saquella Barista Training Certificate
Our Barista's
When you come to the Arden Barista School training courses, know that you'll be in expert hands with our three professionally qualified baristas. All three of the baristas we have on hand have trained at some of the most renown schools for the craft, under the guidance of true masters, so they have all the skills necessary to bring you up to a high level through the course of the beginner, advanced, management and bespoke courses.
Matt, who handles most of our in office training hours, went to do his training at the London School of Coffee, which has instructors who have trained all around the world, and received a certificate of excellence for completing the Specialty Coffee Associations(SCA) Diploma course in the coffee skills program.
Ash and Shaun, the two other certified barista's we have, went over to the headquarters of one of the leading coffee producers(whom we here at Arden have been the number #1 distributor of in the UK since their products became available here) and trained under the Italian Saquella expert baristas themselves whilst there, who have been in the coffee business as a family since 1856. Whilst on this training course over in Saquella they also toured and experienced all aspects of what they do over there to create their world class products, and so have full range of knowledge not only on Barista skills, but the entire process from the coffee plant to the cup.
Feedback on our Courses
We get a lot of positive feedback on the quality of the teaching that takes place throughout the duration of all the available courses we carry out here at Arden Coffee. Here are some examples of feedback we have received from people who have completed courses with us:
"My two training sessions with Matt have left me equipped with all the relevant skills for working as a barista. Everything was explained and demonstrated clearly and thoroughly, with the perfect balance of theoretical knowledge and practical application. It was also a lot of fun! I would highly recommend this experience to trainee baristas and coffee enthusiasts alike!"
"Hi I would like to say big thank you to Matt for my beginners course last week for barista I really found it so interesting and I never thought I would love making coffee I enjoyed it so much I am doing the advanced course next. They are so friendly and made me feel welcome I would recommend this course if you are thinking about a barista coffee course these people know everything and I would love a job doing what they do it's so interesting so big thank you to Matt and all at Arden Coffee. I have found my passion for coffee Print