Push-Button Instant Coffee Machines
Print
Bravilor Coffee Machines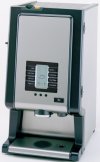 A high speed machine that at the touch of a button produces a wide range of coffee and chocolate beverages, whether its an authentic cappuccino, hot chocolate or indeed a simple black coffee this machine will exercise the beverage in seconds. Simply pop your cup under and push the button the machine does the rest… Its automatic cleaning and rinsing functions prevent blockages occurring whilst not in use and simplify any annoying cleaning and maintenance routines. An integrated coin option can be fitted on demand, meaning the customer can insert the required amount, to gain the beverage of choice… a simple, functional unit for self service or indeed any would have establishment.
Features
Automatic Cleaning & Rinsing Cycles
Unique Mixing System
Advanced Whippers Ensure Frothy Chocolate & Coffee Drinks
Removable Containers
Transparent Canisters
Stainless Steel Chassis
Energy Saving Mode
Drip Tray Sensor
8 Drink Options
Powdered Milk
Stylish Design
Automatic Descale Program
Swiss Made
230v Standard Socket
Drink Options
Coffee
Coffee Creme
Espresso
Cappuccino
Chocolate
Espresschoc
Cafe au Lait
Moccachino
Coffee and Hot Chocolate in 7 Seconds!
Dont want the work in making a coffee? Well just press a button and its all done for you.
Rent For £2.70p per day +vat
Short and long term Rent available, for your coffee shop, office, Garden Centre or Pub and Restaurant.
Coin option for a staff room
For Schools and office staff rooms you can have a coin option fitted so you can put an amount in (you may chose the amount) and then the machine will dispence the drink!
Free Demo!
We have these coffee machines in our showroom, book an appointment and taste the quality.
Provided with 4 canisters for 9 different beverages, being coffee, coffee crème, espresso, cappuccino, chocolate, coffee with milk, Wiener melange, double espresso and hot water. The machine has been equipped with lighted operating panel, drip-tray, automatic descale indicator and rinsing programme. Including decanter for 0.72 litre. Also available in model with coin mechanism ( C ).
LED lighting for a clear menu
Durable material
Closable canister outlet
Beverage-dependent setting options
Unique mixing unit ensures good ingredient flow
Easy to clean because of removable ventilation housing
Easy programming
Quick and user-friendly
Available in metallic grey or white
Print