Print
Fracino Coffee Machines
The powerful success story of award-winning Fracino, the UK's only manufacturer of cappuccino and espresso coffee machines, began in the 1950's when machine tool designer Frank Maxwell stripped down a second hand coffee machine bought on a family holiday to Italy.
Frank started importing and supplying coffee machines to retail outlets in Britain. He launched the business in 1964 and the company has traded under the Fracino brand since 1990.
Now based on the Wyrley Trading Estate in Birmingham, Fracino's 40 plus strong product portfolio is enjoyed and respected worldwide. Its powerful machines are tailored to suit all budgets, with customised equipment meeting technical and aesthetic requirements.
A consistent award-winner, the 23-strong company's string of achievements include a Millenium Product Award for design for the Roastilino counter top roaster, recognition as one of the UK's fastest growing inner city enterprises – and the first company of its kind to gain the ISO 9002 quality standard.
Fracino traditional machines are manufactured from the finest stainless steel, using modern production techniques, state of the art electronics and safety components. Designed to suit all preferences and circumstances our traditional machines will look at home in all situations whether it be for coffee bar, restaurant, hotel or gastro pub.
Fracino manufacture machines from 1 up to 4 group sizes and all models except the 4 group version are available in semi-automatic and electronic versions. The 4 group Contempo is available in electronic version only.
Key Features
Top quality copper boiler heated by multiple looped element.
Pressure controlled by a triple contact pressure switch.
Automatic water level system with a probe, electronic control unit and solenoid valve.
The pressure of water and steam is separately controlled by brass safety valves.
High groups to accommodate large and take out cups. Standard clearance is 130mm and the high group (latté glass) option gives 150mm clearance.
Hot water and steam are released by rotating the valve handles on the solid brass valves.
Brass bodied group with stainless shower plate, solenoid valve and high pressure pump.
Thermosyphonic circulation ensures the group is kept constantly hot for perfect coffee making with temperature control on each group.
Case, waste and cup tray are all made from stainless steel 304.
Espresso tray for use with the high group feature ensuring a perfect espresso.
Choose from 1, 2 or 3 group machines all available in semi-automatic or electronic versions.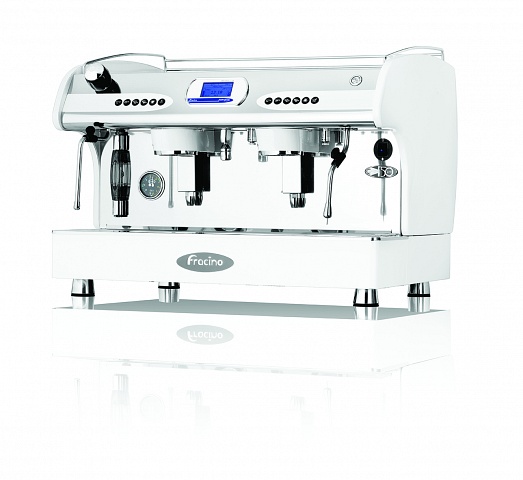 Benefiting from Fracino's extensive research and development programme, world class engineering skills and state of the art production methods, the P.I.D. is available with 2 or 3 groups, hot water outlets fitted with anti-splash nozzles and steam tubes for frothing milk.
The Fracino P.I.D. offers an array of control and diagnostic features, allowing the user to adjust and fine tune various elements on the machine to create the perfect espresso time after time. Most of the features are controlled by a simple and easy to use LCD display mounted on the front panel.
The P.I.D. is available in a choice of gloss white, burgundy, black and stainless steel featuring an illuminated back panel.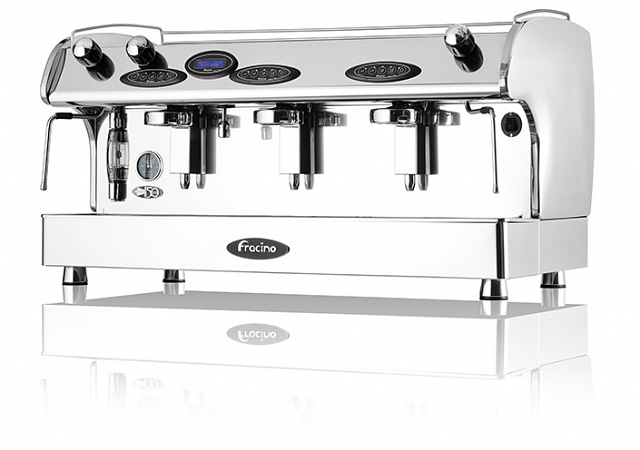 Benefiting from Fracino's extensive research and development programme, world class engineering skills and state of the art production methods, the Romano is a genuine marriage between style and award winning technology.
The Romano is a seriously stylish machine, available with 2 and 3 coffee making groups, a hot water valve fitted with an anti-splash nozzle and steam tubes for frothing milk.
It boasts all the power, technical qualities and reliability synonymous with Fracino products, in a stunning new look to create the ultimate bar furniture. The Romano elegantly combines classic curves and retro styling with contemporary materials and close attention to detail, ensuring a truly outstanding finish.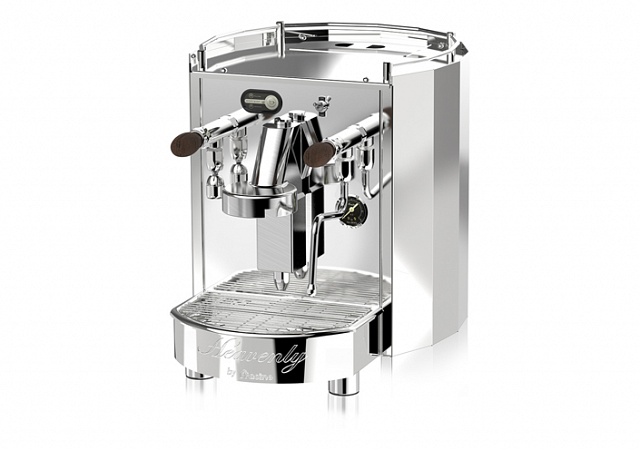 Fracino, creator of the world's most powerful espresso coffee machines, presents the Heavenly. These contemporary, compact, manual fill machines are particularly relevant in venues where space is at a premium or plumbed water is not available. Dynamic and sleek, they are the latest low volume professional/semi-professional coffee machines and are reliable, durable and user friendly.
Suitable for ground coffee, pods or capsules, the stylish machines are ideal for sites requiring between 50 and 70 coffees daily – revolutionising the espresso experience in offices, hairdressing salons, boutiques, pubs, bars and the home. With the facility to make two drinks and steam milk simultaneously, these unique machines feature a high-powered element and a full sized commercial group, ensuring production of the finest coffee.
Print