Print
Award Winning Novus Teas Range
Breakdown of the Flavours
English Breakfast
This world class English Breakfast blend is far from ordinary. Blended with three different Assam leak, it delivers a well rounded full bodied breakfast tea. Only the finest tea estates are used to select this blend which is truly exceptional.
Sapphire Earl grey
This rich, delicate yet full bodied Earl Grey is given an innovative twist to the traditional recipe with Bergamot and blue Malva flowers. This Earl Grey can be enjoyed at any time of the day.
Organic Darjeeling
India's Finest tea, grown on the slopes of the Himalayas, it is often referred to as the champagne of the teas. The exceptional character and exquisite bouquet of rare Darjeeling tea will delight any palate.
Dragonwell Green
The famous Lung Ching green tea has the quickly become one of the most renowned green teas in the world. It offers a smooth, subtle flavour with a slight sweet finish, the mark of exceptional quality.
Organic Jasmine
A floral, aromatic Chinese green tea delicately scented with jasmine petals. The distinctive, smooth brew has been enjoyed for centuries and remains a favourite.
Egyptian Mint
This Egyptian mint leaf dating back to the pharaohs is a hearty caffeine free peppermint. It's refreshing, cooling and flavourful note are well rounded with no bitter aftertaste. Prefect for cleansing the palate and energising the body after a meal.
Citrus Chamomile
Since early Greco-Roman period, the calming and the soothing qualities of the of chamomile have been well known. This caffeine-free blend of chamomile is enhanced with flavour of lemon grass. The result is a mellow citrus delight.
Spiced Chai
This centuries-old beverages has played an important part in many of the world's cultures. Best known from India, Chai is a blend of black tea and exotic spices. To fully enjoy the Chai experience, add milk and sweeteners.
Persian Pomegranate
Capturing the unique flavour of one of the world's oldest fruits, Persian Pomegranate delivers a succulent herbal infusion. Pomegranate is a super fruit which is high in antioxidants, accounting for it's recent popularity amongst the health conscious.
Wild Encounter
This caffeine free herbal blend will send your taste buds reeling. One sip and you will encounter the sweet and tart sensations of the fruit and berries.
Pai Mu Tan
Picked in the morning mist, this white tea is truly one of China's rarest and most famous teas. Tea lovers will appreciate its delicate Flavour.
Organic Lapsong Souchong
An ancient and much loved Chinese black tea smoked over pine, this Lapsong is a rare organic treat, beautifully subtle smokey background notes mean it is easy to enjoy with or without milk. The perfect winter indulgence on a cold day.
Pu-Erh
Naturally fermented and gently dried this Pu-Erh is picked with flavour. A bright infusion with earthy, fermented character with hay and wild mushroom notes and a faint dark chocolate notes, give it an unusual taste.
Yunnan Silver Green
This single origin green leaf from Yunnan is first flush. It is composed of high grade Tippy leaf, which yields good astringency, with smooth rounded taste and a gentle smoky finish which is most pleasant.
White Mulled Wine
White Mulled Wine is a different take on Christmas tea. A pleasant and vibrant taste of white wine with a fresh lemon zest finish and suitable hints of Christmas spices. A well rounded and delicious herbal tea which is caffeine free. A real winter warmer!
Eight Secrets of the Far East
This blended tea encompasses the eight major growing regions of china in one blend. producing a thicker green tea, it is also blended with Strawberry, Mango and Lychee to give it a fruity taste. Clean mango and softer strawberry notes are evident on the finish. A different green tea to be enjoyed at any time of the day.
Organic Tsuki Matcha
Matcha Tea leaves grows in shaded tea plantations in Japan. The tea leave are then dried and ground by granite stones into a very fine powder. The result is a creamy, full bodied green tea. One gram of Matcha is equivalent to 15 cups of green tea such is the levels of antioxidants levels in Matcha.
Chocolate and Vanilla
A decadent combination of tea and chocolate with a cheeky sweetness is a sheer delight. This luxurious black leaf blend with cocoa beans and vanilla provides all the taste and comfort offered by chocolate but without the calories! A delicious cup of tea to be enjoyed at any time of the day with a clear conscience! A light bright and brisk tea with dark chocolate notes and twist is transformed into subtle chocolate notes and twist of vanilla sweetness. Best enjoyed with or without milk, tea lovers may prefer without for the full chocolate experience.
Beetroot and Apple
This organic herbal infusion is caffeine free, with wine type acidity and sharpness. Bursting with beetroot and subtle apple notes, this is rich in antioxidants, essential vitamins and minerals such as Vitamin C. Fantastic hot or cold this tea is perfect winter tea to fend off winters' chill
Turmeric Citrus
This eclectic organic herbal infusion is composed of Turmeric and Matcha for a super healthy tea. A nice kick of ginger spices and subtle lemon notes to balance the intense Turmeric provide a very enjoyable tea. Turmeric is well known for its an it-inflammatory and antioxidant properties.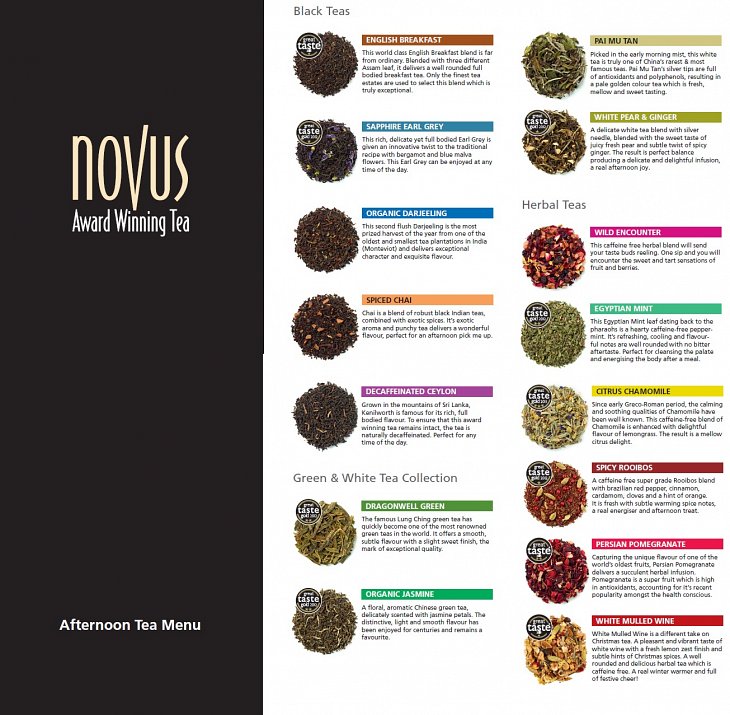 Why should I buy these teas?
If you have a tea pot with a tea mesh inside then you can buy the tea loose or you can have loose tea already done in a pyramid bag. Both are packed in resealable bags. The Pyramid tea bags have the strength to be able to brew a small teapot, tall takeaway cup and a 2 cup teapot. The strength can also be determined by the brewing times of each tea.
You can also pick & mix your order so you can have whatever you like.
MOVEMENT:
The pyramid shape allows Novus teas more surface area to infuse, replicating the tradition of sleeping tea in a teapot.
TRANSPARENT:
The transparent pyramid displays clearly the premium tea leaves an colourful herbal infusions available in the Novus range.
INFUSION:
The biodegradable pyramid allows full extraction of the tea leaves without compromising natural flavours which are inhibited by a traditional paper bag.
TASTE:
The use of corn starch material eliminates the smell associated with paper tea bags, ensuring zero taint and delivering the full taste of the tea.
NO STAPLES:
The elimination of the metal staples prevents the oxidation from the staple, detracting from the tea's taste and is more ecological.
TAGGED:
The tea bags now come with a longer string so you can use the Novus teas in any sized cup.
CADDY:
This black round container is perfect for holding your Novus tea. The Blackness of the container is perfect as tea can last and be stored longer in the dark.
NOVUS:
The Novus brand are one of the current leading brands in speciality, expert tea, and they have a wide range of equipment available to assist you in the theatre of making the perfect cup of tea.
| Products | Infusion Time | Taste | Colour | | | |
| --- | --- | --- | --- | --- | --- | --- |
| English Breakfast | 3-5 Minutes | Strong, Full Bodied Good With Milk | Dark Brown | | | |
| Sapphire Earl Grey | 4 Minutes | Bright, Coppery & Fragrant | Light Brown | | | |
| Organic Darjeeling | 3 Minutes | Complex, Moreish & Light Flavour | Pale Green | | | |
| Spiced Chai | 4 Minutes | Strong, Spicy & Yet Subtle Flavour | Dark Brown | | | |
| Dragonwell Green | 5 Minutes | Clean, Sweet, Apricot Flavour | Pale Green | | | |
| Organic Jasmine | 3 Minutes | Light, Crisp & Fragrant Flavour | Pale Green | | | |
| Pai Mu Tan | 4 Minutes | Pale, Light and Crisp Peach Flavour | Amber/Yellow | | | |
| Egyptian Mint | 3 Minutes | Refreshing, Strong, Menthol | Pale Green Brown | | | |
| Citrus Chamomile | 3-5 Minutes | Fresh, well rounded, No Bitterness | Pale Yellow | | | |
| Wild Encounter | 3-5 Minutes | Sweet and Tart, Very fruity | Dark Red | | | |
| Persian Pomegranate | 3-5 Minutes | Sweet and Fruity, Well Round | Dark Red | | | |
| Tea Name | Loose | 1x25 Pyramid Bags | Great Taste Award | | | |
| --- | --- | --- | --- | --- | --- | --- |
| English Breakfast | 250g | 1x25 Pyramid bags | Gold 2010 * | | | |
| Sapphire Earl Grey | 250g | 1x25 Pyramid bags | Gold 2009 * | | | |
| Organic Darjeeling | 250g | 1x25 Pyramid bags | | | | |
| Dragonwell Green | 250g | 1x25 Pyramid bags | Gold 2009 * | | | |
| Organic Jasmine | 250g | 1x25 Pyramid bags | Gold 2009 * | | | |
| Egyptian Mint | 100g | 1x25 Pyramid bags | Gold 2010 ** | | | |
| Citrus Chamomile | 100g | 1x25 Pyramid bags | Gold 2011 *** | | | |
| Spiced Chai | 250g | 1x25 Pyramid bags | | | | |
| Persian Pomegranate | 250g | 1x25 Pyramid bags | Gold 2015 ** | | | |
| Wild Encounter | 250g | 1x25 Pyramid bags | | | | |
| Pai Mu Tan | 100g | 1x25 Pyramid bags | | | | |
| Spicy Rooibos | 250g | 1x25 Pyramid bags | Gold 2012 * | | | |
| Strawberry & Cream | 250g | Not available as Pyramid | | | | |
| White Mulled Wine | 250g | Not available as Pyramid | Great Taste 2015* | | | |
| Chocolate & Vanilla | 250g | Not available as Pyramid | | | | |
| Decaff Ceylon | 250g | 1x25 Pyramid bags | | | | |
| Yun Nan | 250g | Not available as Pyramid | Great Taste 2015* | | | |
| White Pear & Ginger | 250g | 1x25 Pyramid bags | Gold 2012 * | | | |
| Robin Hood blend | 250g | Not available as Pyramid | | | | |
| Peak District brew | 250g | Not available as Pyramid | | | | |
| Lemon Verbena | 100g | Not available as Pyramid | | | | |
| Organic Matcha | 100g | Not available as Pyramid | | | | |
| Organic Lapsong Souchong | 250g | Not available as Pyramid | | | | |
| PU ERH | 250g | 1x25 Pyramid bags | Great Taste 2015 * | | | |
| Yunnan Silver Green | 250g | 1x25 Pyramid bags | Great Taste 2015 * | | | |
| Eight Secrets of the Far East | 100g | 1x25 Pyramid bags | | | | |
Print